Soft skills and leadership training
FIZ is an interactive curriculum designed for soft skills, emotional intelligence, and leadership development, an approach that puts the principles and techniques of improvisational theater to work in non-theatrical venues such as corporations, academic institutions, organizations, and professional groups.
Through participating in improv and theater activities, exercises and games, participants develop vital professional skills. It is a part of the growing international wave of nontraditional, arts-based educational programs helping people become better at—and happier with—what they do and how they do it.
"I joined Actors Improv Theater in 1989 and began teaching improv in the early 90s. I was delighted to find my students were using what they learned in class not just on stage but also to good effect in their professional and personal lives. So I developed an Applied Improv curriculum."
– Professor Greg Hohn, FIZ Program Director
Authentic and Dynamic Communication
How do you bring out the most vivid and honest parts of who you are?
Navigating the Creative Process
Innovation, adaptation, and problem solving all depend on and are products of the creative process.
Thinking on Your Feet
The essence of improvising is thinking on your feet, reacting in the moment.
Seeing the Person Behind the Job
Participants play in this team building program so they can work together better.
Customized Experiences
Where do you and your group want to go? Together we can design a mixture of the above programs or design one that addresses the issues your group is facing.
Coaching
We listen to where you are and where you want to go and help you make the transitions you need to make.
Improv is an art form in which participants act and respond in the present, trusting that each thoughtful action will lead to a wonderful outcome—even if it isn't the intended result. In this book, the principles and practices of unscripted theater are applied to...
Dad was watching Lon Chaney in The Phantom of the Opera, the black-and-white 1925 film, on our black-and-white 1965 TV. This was not a family evening, just Dad relaxing with a Salem menthol or two after supper and a hard day's work. I watched a little bit of the movie...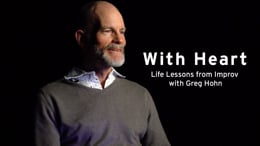 After years of teaching and performing improvisational theater, Greg Hohn recognized his students were discovering innovative ways to apply improv lessons off stage. Greg has refined his improv instruction to focus on these skills with students in non-theatrical venues.